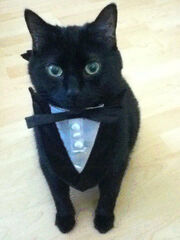 N2 (often referred to as N2 the Talking Cat) was an American cat celebrity who touched the hearts of many cat lovers.
N2 the Talking Cat started out as a YouTube show created and developed by account user VersaBC. Since then it had 4 seasons and N2 with help from his owner and Kona, created an entire album on iTunes for a total of $16.99. N2 was a preppy cat who, with the help of Kona the Siamese cat, created mischief only talking cats could make. Some songs on N2's albums were "Preppy Cat", "Super Hero Cat", "Tarter On My Teeth", and "What does the Cat Say?".
Personal Life
Edit
N2 lived with his owner and sister Kona the Siamese cat. N2 had an older brother Night Crawler who sadly passed away in 2011. N2 had previously been to the vet with tarter on his teeth and Kona had to go because she had ear mites. N2 is a preppy cat who enjoyed the company of his owner and the occasional company of his sister Kona who had a drinking problem and had high blood pressure. N2 created an invention that sent Kona to the year 2015, but sadly N2 was not awarded for his high achievements.
Beginnings, Preppy Cat and hiatus (2010-13)Edit
On November 29, 2010, N2 Cat Crew joined YouTube and his first video was posted on December 10, 2010 called ''Loudest Purr'' but on April 4, 2011, N2 Cat Crew made a YouTube series called ''N2 The Talking Cat'', then on June 19, 2011, he made his very first hit called ''Preppy Cat'', in summer 2012, the album was released and the show was put on hiatus on December 21, 2013. On June 5th 2012 Super Hero Cat was released.
N2's Death, Hiatus ending, and first appearance of Bo and Super Hero Cat (2014-15)Edit
On April 25, 2014 during the hiatus, N2 died from cancer, Bo was first introduced on June 29, 2014 and the hiatus was lifted on September 6, 2014 when ''Super Hero Cat in You'' was released.
Cats In Trouble (2016-17)Edit
Cats In Trouble was released in summer 2016, but has re-released on April 25, 2017 in favor of ''Rise To The Top'' and instead of N2 or VersaBC singing the songs, Bo and Kona are singing them, while N2 sung ''Boss Cat'' and ''Rise To The Top'', Bo and Kona has done most of the work.
Despacito (2018-present)Edit
Bo, VersaBC and Kona are working on another album for a summer 2018 release. So far, they released ''Despacito'', Kona's love song, ''Havana'', ''Mi Gente'' and ''How Long'' for the album, they're still working on the other seven singles for the album.